A Psalm (and Hashtag) for Hong Kong's New Political Prisoners
Some follow-up to my previous post on Joshua Wong: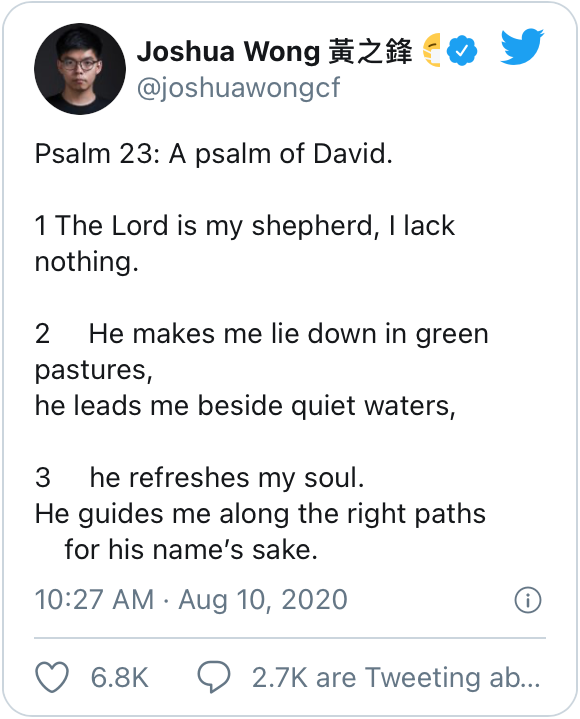 About a week after the passing of Hong Kong's new security law, Wong, facing the prospect of torture and imprisonment in China, posted the well-loved Psalm 23 to Twitter.
I've been using this psalm to pray for him and Hong Kong's other political prisoners/exiles over the past few weeks. In particular:
Hardly comprehensive, but it's a start. I've included the psalm below, so feel free to weave it into your own spiritual practice. And share it with the hashtag #HongKongPsalm23 if you can.
---
#HongKongPsalm23
Psalm 23 — a psalm of David.2
The Lord is my shepherd, I shall not want.
 He makes me lie down in green pastures;
he leads me beside still waters;
 he restores my soul.
He leads me in paths of righteousness
 for his name's sake.
Even though I walk through the valley of the shadow of death,
 I fear no evil;
for you are with me;
 your rod and your staff—
 they comfort me.
You prepare a table before me
 in the presence of my enemies;
you anoint my head with oil;
 my cup overflows.
Surely goodness and mercy shall follow me
 all the days of my life,
and I shall dwell in the house of the Lord
 for length of days.
---
After three months in Chinese prisons, they were finally charged yesterday.↩︎

From the New Revised Standard Version. (Wong quotes the New International Version in his tweet.)↩︎
---
Previous post
'We Rejoice in Our Sufferings': Joshua Wong Held in Solitary Confinement
The 24-year-old activist reflects on his fourth term in prison.
Next post
Benedict Rogers: In Hong Kong, Churches Face a Difficult Choice
A candid assessment — and a prayer for those trapped in Beijing's crosshairs.